Every year, it seems like the holidays just sneak up on me. Before I know it, Halloween costumes are being stored away and turkeys go on sale. And just as I've polished off the last of the pumpkin pie, the ornaments are being brought out of storage and hung on the tree. My decorations have been up since the beginning of December, and most of my shopping is complete–with the exception of one or two gifts–but something is still missing. I don't quite feel swept up in the holiday spirit, despite the smell of gingerbread, the twinkling lights all around the city and an almost annoying amount of holiday music. Luckily, I know exactly what is keeping me from reveling in it all...snow. Or the lack there of.
Yes, Chicago has yet to welcome any of the tiny white flakes this year, and while many are thankful for that, I am not. Snow is what makes Christmas complete. I have had a white Christmas nearly every year since I was young, and I can count on one hand how many times it has not snowed for the holidays. I was fortunate to have snow back in Colorado last year, and I am praying for that to happen again. However, things in Chicago do not seem very promising.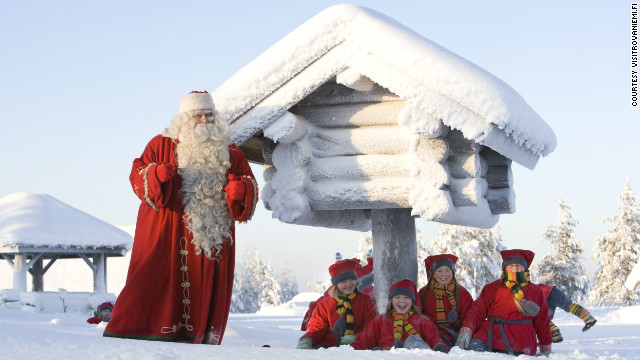 Lapland, Finland. Source: CNN
So perhaps I need to venture to where I can really get in the holiday spirit: The most Christmassy places in the world.
Located just above the Arctic Circle is Rovaniemi, Lapland in Finland, considered to be
the ultimate
Christmas destination. Locals here argue that this is the home of St. Nick, not the North Pole, as legend would have us believe. Children can make gingerbread cookies with Mrs. Claus, take part in Elf School, or take a calligraphy class to write their wish-lists in traditional quill style. The Ranua Zoo is home to polar bears; while the Sirmakko reindeer farm lets visitors take a safari sled-led tour.
Finland is a little far to travel, at least for me, so I would considering going to somewhere in North America. Dyker Heights, Brooklyn, is an off-the-beaten-path destination, far from the flashy holiday spectacle that is New York City. The predominantly Italian-American locals have an unspoken competition among one another to see who can have the best decorations. This results in quite a spectacle of towering Santas, oversized toys, swarms of nutcrackers, and millions of lights and tinsel. An unofficial tour of these festive streets is enough to lift even the grouchiest person's mood. Add a personal tour guide with a cannoli and hot chocolate, and the experience is complete.
Our neighbors to the North also offer a pretty festive collection of attractions and events. In Quebec, Canada, you will find a tree made of recycled sheet metal that has lights powered by cyclists pedaling nearby--way to be environmentally friendly and encourage physical fitness! The German Christmas market serves up roasted chestnuts and sausage, which can be enjoyed while strolling through international nativity scenes. (Check out more Christmassy places
here
.)
Of course, I don't have to go all the way to Quebec to experience a German market. Chicago does have the Christkindlemarket, a tradition that I have adopted almost every year since moving here. (My collection of Glühwein boots are displayed proudly in my cabinet.) I will admit that attending this year did help boost my holiday cheer.
In Colorado, Denver hosts its Mile High Holidays, over a month of lighting ceremonies, parades, festivals, theater, music, dance, heritage and history, all centered around the holidays. The Botanic Gardens features Blossoms of Light, with over one million lights draped in designs throughout the Gardens. Zoo Lights offer more than 38 illuminated acres of lights, and 150 animated animal sculptures that create a yuletide-inspired safari. Downtown, the City and County Building is completely covered in lights and decorations, becoming a beacon for all those wandering through the streets of Denver.
I think what will really make Christmas complete is being home with my family, taking part in our annual traditions: baking fresh bread, making handmade Italian sausage from scratch, watching holiday movies while enjoying delicious pizza, and opening presents together. Family. That's what Christmas really means to me.
So there's plenty to help me get past this minor hurdle and fully embrace the holidays. And as far as the snow...there is hope. In fact, as I was typing this post, a few flakes began falling outside. After a moment of pure joy and rapture, however, they stopped. But still, it's a good sign!