There have been reports that the youths of today are not as religious as past generations, that they are not as connected to their faith and do not attend mass on a regular basis, if at all. And yet hundreds of thousands of young people flocked to Rio de Janeiro this week for World Youth Day, a week-long gathering of young Catholics celebrating their faith, learning about God, and engaging with others who share their interests and passions. It was founded by Pope John Paul II in Rome in 1984, with the first official event being held in 1986.
WYD happens every three years in a different country and features a new theme each time. The most recent WYD was held in Madrid carrying the theme "Rooted and built up in Jesus Christ, firm in the faith." -Col 2:7. This year, it is being held in Brazil, an event made even more special by the fact that the new Pope is from the continent and has traveled from Vatican City to be a part of the festivities.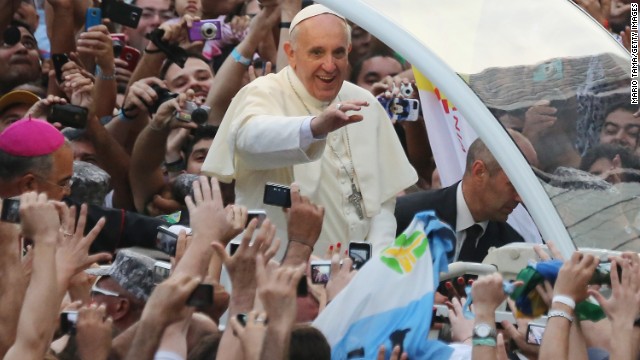 Pope Francis arrives in Brazil. Source: CNN
Pope Francis, the first Latin American Pope, journeyed to Brazil for his first trip abroad as pontiff. Not only will he be speaking to a country with more Catholics than any other, he will also be addressing millions of tourists visiting from around the world, putting him front and center of an extremely large audience of admirers. According to local officials, about 700,000 youths have already arrived in Rio, with the total expected to reach about two million.
Francis reportedly will not ride in the traditional glass-enclosed Pope-mobile, but rather an open-topped car, showing that he both is not afraid of the people and wants to be close to them. Upon his arrival in Rio, Francis made himself known as the "Pope of the poor," saying that he had neither gold nor silver, he only brought the "most precious thing" given to him: Jesus Christ.
WYD and the Pope's visit come at a crucial time for Brazil. The country has been experiencing a slew of street riots and protests against government corruption, largess, poor education and lackluster medical care, not to mention anger over World Cup and Olympic issues. The Pope is well aware of the turmoil in the country, which has been driven by the large wealth gap. Many protesters hope to use the visit to shine a light on the controversy they face in the country. The organizers of the protests that took place in June want to send a message that says, "look how we're treated."The energy surrounding the visit has led many to worry about security and safety. (A
recent update
reported that an explosive device was found near a religious sanctuary the Pope was planning to visit on Wed.)
While the political issues in the country are important, many believe the Pope also needs to focus on the
waning Catholic faith
. Yes, Brazil still has the most Catholics than any other country, as I mentioned before, but it has also been losing many followers. A recent study showed that about 25 years ago, Brazil was 90% Catholic. That has dropped to 65% today. There is also a growing group of secular Latin Americans with no religious affiliation. The Pope's visit could be seen as a reconciliation for the Catholic faith, and could help reverse the trends that have been going on the last few years.
To learn more about World Youth Day, check out the
official website
.