Tallinn, Estonia
, is quickly becoming a top travel destination. It's rich culture, stunning architecture and historical significance make Tallinn a wonderful place to visit. Winding through the cobble-stone streets lined with colorful buildings, you'll find an untouched world of boutique shops, hip bars and classy restaurants. Not only does Tallinn have an exciting social scene, but it also provides educational stimuli through medieval churches, palaces and towers. It's amazing what you will discover here.
A Little Background...
Tallinn is the capital of Estonia and the largest city in the country. Located on the Northern coast on the banks of the Gulf of Finland, Tallinn has always played a major role in trade and has maintained a strong tie to the sea as a large port city. The city built its infrastructure, culture and economy over the centuries, only to fall under Imperial Russia in 1710. After years of rule, Tallinn and the rest of Estonia declared independence in 1918. The Soviets returned during World War II, and Estonia was occupied by the Soviet Union until declaring independence once again in 1991, re-establishing itself as a democratic state.
What to See
The city is split into three areas: Toompea, or Cathedral Hill; Old Town; and Estonian Town. Each of these sections contain sites that cannot be missed on your trip to Tallinn, Estonia. Among the list of must-see is
Freedom Square
, completed just a couple years ago. This newly created attraction is a great place to relax, grab a bite to eat and enjoy Tallinn's impressive architecture. In fact, the square displays the epitome of 1930s-era, art-deco buildings. The large pillar on the west side of the square is the monument to the War of Independence, in remembrance of Estonia's hard-fought battle from 1918 to 1920 for freedom. At the northwest corner of the square, visitors can get a glimpse of the city's old foundations by taking a look through a glass panel in the ground that reveals the stairs of the Harju Gate Tower, which stood during the medieval period.
Rotermann Quarter,
which underwent a massive revitalization after Estonia gained back independence in 1991. In its early days, Rotermann Quarter was the heart and soul of industrial Tallinn, boasting a sawmill, department store, a wool mill, a distillery and numerous other businesses. But when the Soviet-era hit, the area slowly declined, and required much attention once the Soviets left. Now the Quarter is home to the Rotermann Centre, a trendy shopping center that opened in 2007. Central square hosts open-air food and craft markets during the warmer seasons, and a Christmas market in December.
No trip to Tallinn is complete without visiting the historic homes of past royalty.
Kadriorg Palace,
an elegant baroque-style structure, was built for Catherine I by her husband, Peter the Great. While the palace's external design is extravagant, the collection of art inside is truly exceptional, especially if you're an art lover. Kadriorg Art Museum has hundreds of paintings from the 16th through the 20th century. While inside, take some time to admire the painting and decoration of the main hall and various other rooms, which are covered in elaborate patterns and stucco.
When visiting Old Town, you must head over to
St. Catherine's Passage
, easily one of the most traditional and picturesque spots in the neighborhood. The medieval, narrow walkway runs along the back of what used to be St. Catherine's Church. What makes this road unique is that St. Catherine's Guild resides here. This is a collection of craft stores where artists use traditional techniques to make glassware, jewelry, scarves and ceramics. Visitors can watch artists at work, as the workshops are set up in open-studio fashion. So after you see a vase being molded, you can purchase it and take it home.
St. Olav's Church and Tower
, a 13th Century structure with a 124-meter steeple that has become a symbol for the town. Although the steeple has played a major role in Tallinn's history, it's also fallen on some bad luck over the years, attracting lightning on many occasions and even catching fire three times as a result of storms. Now things have remained relatively calm, and visitors should not fear making the trek to the top of the stone tower, which can be done anytime between April and October. Once at the top, guests will get breathtaking views of Old Town and Toompea Hill. Inside the church, which dates back to 1267 and was dedicated to King Olaf II of Norway, visitors can gaze at the vaulted ceilings and beautiful designs that cover the walls.
Venture over to Toompea Hill to see the main Lutheran church in Tallinn,
The Cathedral of Saint Mary the Virgin
. Established around 1233, this church has seen many renovations, which have attributed to its varied designs from different time periods. Inside, visitors will find German-influenced features, including funereal coats of arms and the burial stones of some notable figures.
Estonia's Parliament can be found in
Toompea Castle
, sitting prominently on a cliff overlooking the city. The Pikk Hermann Tower, located at the Southern edge of the castle, is a vital symbol. It is said that whichever nation flies its flag over the tower, rules Estonia. Every day the Estonian flag is raised to the tune of the national anthem. But this happens at sunrise, so get there early if you plan on witnessing this event.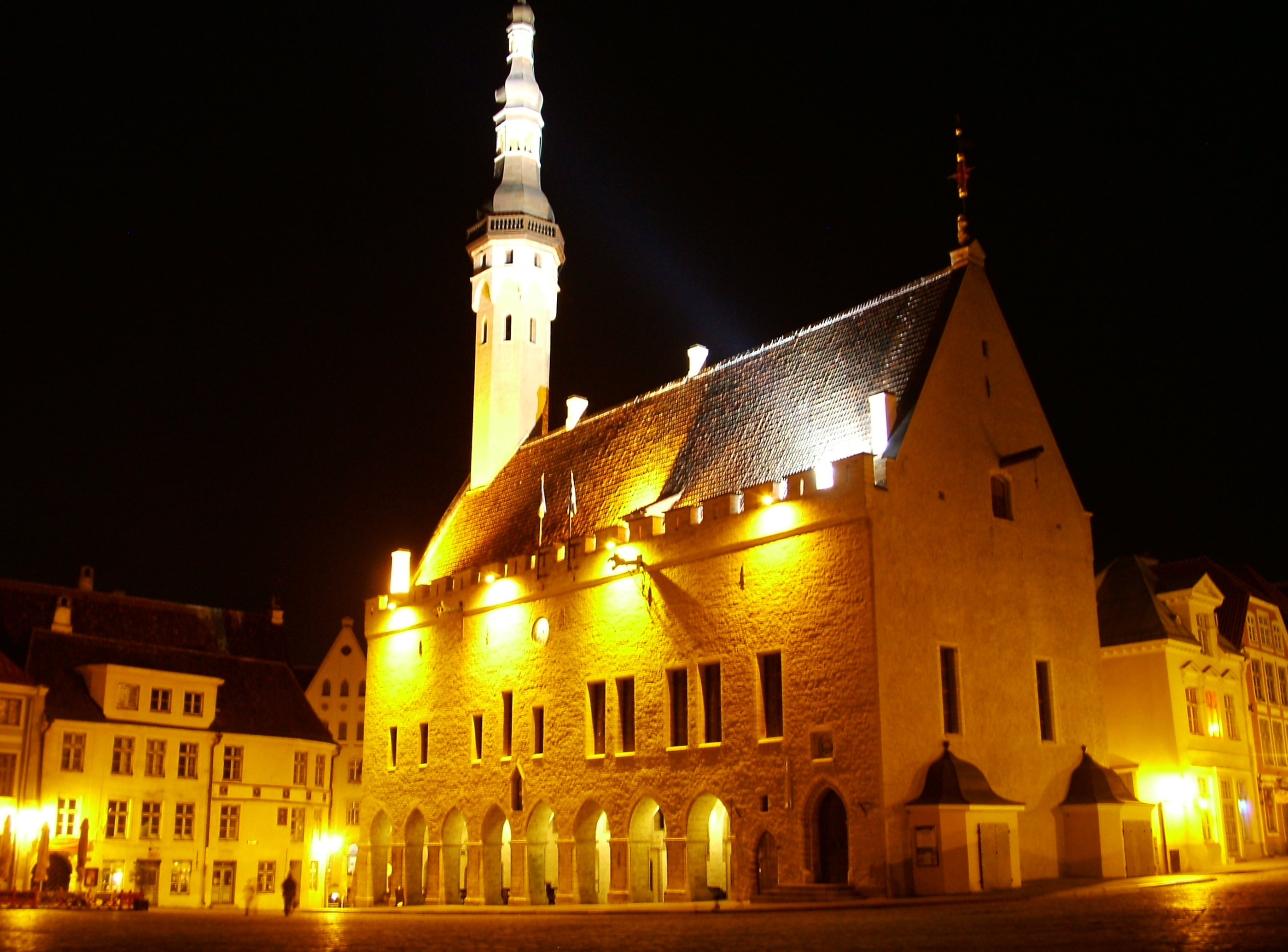 Town Hall
As much as it is a major tourist attraction,
Town Hall Square
should not be missed. It's colorful houses and packed cafes make it an ideal spot for people watching and picture taking. This is a very social location, home to open-air concerts, markets and fairs. Every year, the square hosts the Tallinn Christmas Tree and the Christmas Market. During the summer, Old Town Days Festival takes place here, a medieval carnival with Middle Age traditions.
Tallinn has an array of eclectic and unique museums that you won't find anywhere else. One of these is the
Town Hall Pharmacy
, the world's oldest operating pharmacy. There's also the
Kiek in de Kok Musuem
, which gives visitors access to the 17th century tunnels used defend Tallinn from invaders.
If you feel like shopping, check out any of Tallinn's outdoor markets. The
Central Market
is the largest food market, and there are many other craft and souvenir markets scattered throughout the city.
Tallinn is an extremely high-tech city--you'll be surprised at where you can get WiFi. Since it is so tech-friendly, Tallinn offers tourists audio-guided walking tours on their Ipods, so guests have a trusty guide right in the palm of their hand.
Getting a Taste of Tallinn
Baltic Sprat
Tallinn has a wide range of cuisines for tourists to sample, but if you're looking for local, traditional dishes, head over to Vanaema Juunes or Kuldse Notsu Korts. There you can try any of the classic Estonian meals, such as jellied pork, stewed sauerkraut, pea soup, marinated eel, blood sausage and Baltic Sprats--a herring-like fish. If none of these sound appealing--and let's face it, some of them don't--then you can enjoy more modern and trendy restaurants that serve up fare from all over the world. (Yes, you can get a plate of pasta in Estonia, I won't tell anybody.)
Marzipan figures
All over the city you will find scrumptious chocolates and Estonian marzipan. Check out the Kalev Marzipan Room to watch artists paint marzipan figurines. After satisfying your sweet tooth, get in on the happy hour action at any local pub or restaurant. Get a pint of a local brew, such as Saku or A. Le Coq, or go for something a bit stronger, like Saaremaa or Viru Valge Vodka.
Why Go to Tallinn
If all the history, attractions and food are not reason enough to go to Tallinn, then perhaps the fact that it was featured on
Budget Travel's Top Destinations of 2011
list might be more incentive. Also, Tallinn was named a 2011 European Capitol of Culture, and the city has planned over 7,000 events over the next 12 (well, 11 1/2) months to celebrate the honor. What better time to go then now? Well, maybe not right now, seeing as the winters there are extremely dark and cold. The best time to plan a trip is during late spring or early fall, when the temperatures are decent and the crowds are minimal.