Last night I was looking through old photos on my computer with my boyfriend. We were trying to pick out ones we liked to frame and hang i
n our study/guest room. As I scoured through the numerous files that documented my college years, a sense of nostalgia rushed over me with each memory I saw. And then we got to the pictures of all my trips, and I got this overwhelming desire to go back.
I mention in this blog all the time about how I want to see the world and venture to new places. I have a list on the side that mentions all the cities or countries that I desperately want to see. But there are plenty of places I have gone that I would consider revisiting.

With a lack of money and time, why waste it on a place you've already been?
This is
an exellent question, and I'll be the first to say that I would rather vacation somewhere new. But there are certain places that just stay with a person, that have such an affect that one can't help but go back time and time again.
I have been to Italy 4 times, and if I was given the chance to revisit, I would do it in a heartbeat. Not only has Italy had such a profound impact on my life, but there is still so much of t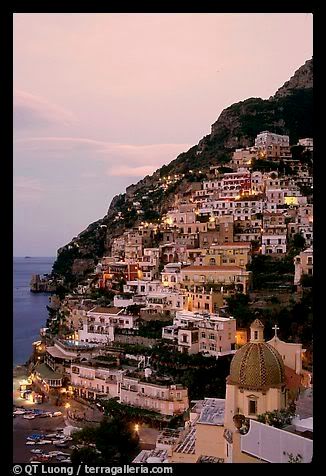 he country I have not seen. The Southern areas, particularly the Amalfi Coast, are at the top of my list. (Sicily is technically it's own country, but that is worth exploring for sure.) I have barely scratched the surface of the Eastern portion and the Umbrian region. And who wouldn't want to explore the Italian part of the Alps and snowboard in Torino? On top of there being more for me to see, there is plenty to do in Italy. I want to learn more about Italian cooking, Venetian jewelry, Roman architecture. Keeping busy in Italy would be pretty simple.
But the photos of Italy were not the only ones that made me want to go back. I was looking at the photos from my spring break trip to Puerto Vallarta, Mexico, and I could just picture myself back on that beach watching the sunset. Or the pictures of me and my mom in Hawaii riding ATV's through the old sugar cane fields, and how I would love to have that dirt on my face again. And even the depressing photos from my trip to Auschwitz, Poland, made me yearn to return to the country and see some of it's more culturally festive and active cities.

I think now I may have another list--places I would definitely want to revisit in my life:
*Italy
*Hawaii
*Mexico
*Poland
*Australia-Sydney, Melbourne, the Outback
*Greece
*Vancouver-Whistler
*Paris, France
*London
I'm sure there are others that I would go back to, but those are the top destinations.
Where would you go again?