For those who pay attention to completely meaningless holidays, today is Groundhogs Day. A day when people gather in a little town in Pennsylvania to watch a bunch of guys, dressed head to toe in colonial style suits, pull a little groundhog named Phil out of his home and pretend that he will predict the coming weather. This was the spectacle I watched this morning as I pedaled away on an elliptical. And what did our little weatherman predict? Suprise, suprise, 6 more weeks of winter.
While the news of the weather certainly dampened my endorphine-spiked mood, the news story also provided me with a great blog idea. That little town, you know it as Punxsutawney, PA, has a spotlight cast on it for one measly day out of the year. But what about the rest of the time? What does this little borough have to offer?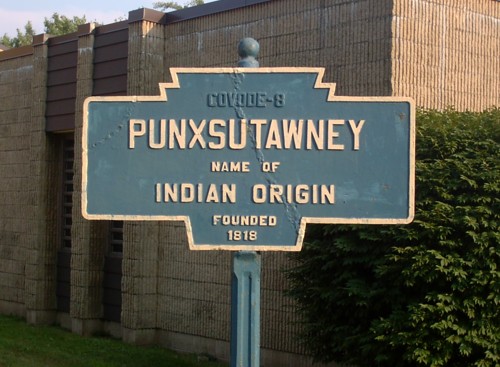 As it turns out...not a whole lot. At least, not in the central part of the town. Other than the famous Gobbler's Knob where Phil pops his head out every year to see his shadow, there's Barclay Square, Groundhog Zoo--yeah, they're pushing that tradition,--
Marion Center Speedway
, and
Silverbrook Fiber Meadows Tours
. Around Punxsutawney, there are plenty of exciting activities to partake in: hunting, fishing, canoeing, kayaking, biking, and cross country skiing. The town also provides numerous festivals in the summer, so if you visit during that time of year, there should be enough to keep you busy. Even though this town is pretty famous, it probably doesn't receive all the credit it deserves. I guess that's the downfall of having such a famous celebrity reside in a small town.
I wish I could provide you with more information, but it was difficult to locate any kind of tourist information that didn't involve Phil. I also tried to find a good picture that shows the town, but I could not find any that didn't feature that cute little critter's face--so you get a nice sign instead. Enjoy! And happy 6 more weeks of winter!